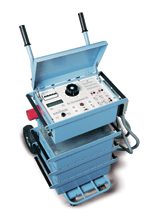 ODEN AT
Primary Current Injection Test System
• Most advanced primary current injection test system to simplify all types of switchgear and CT commissioning, ground grid, circuit breaker testing and more.
• Modular design to permit optimal user configuration of output current vs. unit size.
• Compact transport cart facilitates portability into switchgear rooms with limited space.
• Unique I/30 function allows the current to be pre-set using low current to prevent test sample heating, thus eliminating corruption of test result.